Stranger Things fans have been over the moon in love with Eddie since he appeared on the screen. Played by actor Joseph Quinn, fans can not get over the leather jacket, Dungeons & Dragons player, and hard rocker. During his last minutes in Volume 2, while Dustin held him, Eddie has told him that he loves him. His last words have been used to fuel recent speculations; is Eddie Munson gay? And, is he in love with Dustin Henderson?
If you're curious to learn more about Eddie and his relationship with Dustin, you've come to the right place. Keep on reading to find out if Eddie Munson is actually gay, and if he's really in love with Dustin!
Eddie was the leader of the Dungeons and Dragons Hellfire club, and a close friend of the famous trio – Mike, Dustin, and Lucas. They all met in high school, and have been close ever since. He was very intelligent, but, due to his eccentric personality, he often struggled in school. As it has already been said, a big part of the season 4 plot revolves around Eddie, which is exactly why the fans dreaded his possible death.
Even though he was a full-on non-conformist, and as a result, was never understood by the residents of Hawkins, it seems like his character was too good to be true. After all, who could possibly resist his charm? While everyone thought he was weird, he was extraordinarily kind-hearted and pure. For many, he was a fictional figure they strongly related to, for others even more so.
Since the beginning of the series (which started years ago, in July of 2016!), the fans have been doing their work, picking up clues and investigating characters' sexual orientations. After Robin confesses her sexual orientation to Steve, the fans have started to be warier of other characters. For years, Will has been under the microscope because of his closed-off behavior and lack of interest in girls. There have also been many speculations about the possibility of other characters covertly beinga part of the LGBTQ+ community. Among those is Eddie, for whom the fans think he might be gay. So, why would they think that?
Is Eddie Munson gay? And, is he actually in love with Dustin Henderson?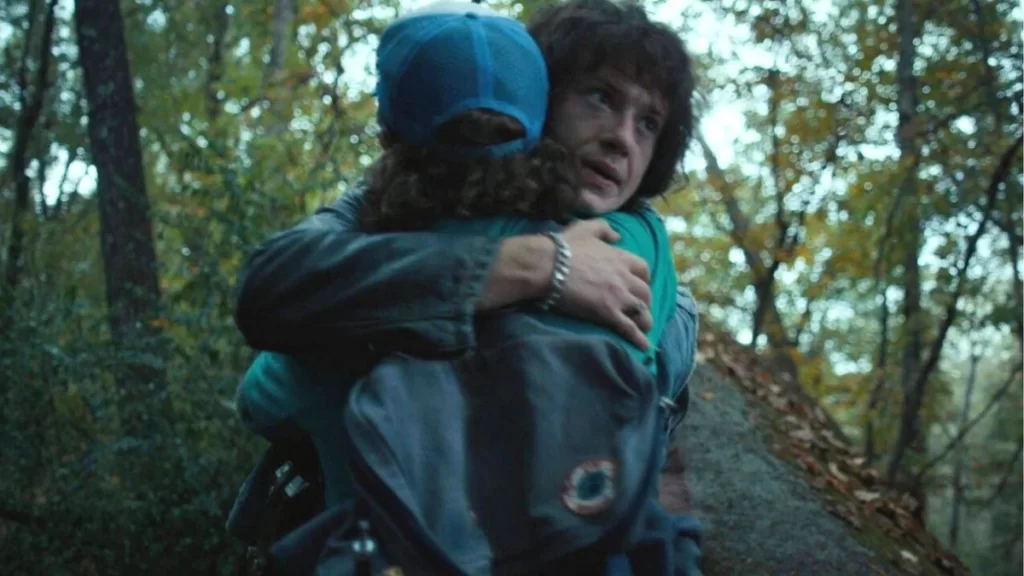 In the face of danger, Eddie decided not to run anymore. He bravely fought to protect his friends, all while buying them some more time in fighting Vecna. Against fans' wishes, the Duffer brothers decided Eddie has to go.
During his final moments, Eddie picked up his BC Rich Guitar and started rocking out to Metallica's Master of Puppets. Sadly, the worst expected outcome has been realized, as he died in Dustin's hands in the last episode of the fourth season. while Dustin held him, Eddie told him that he loves him.
Eddie's Metallica Connection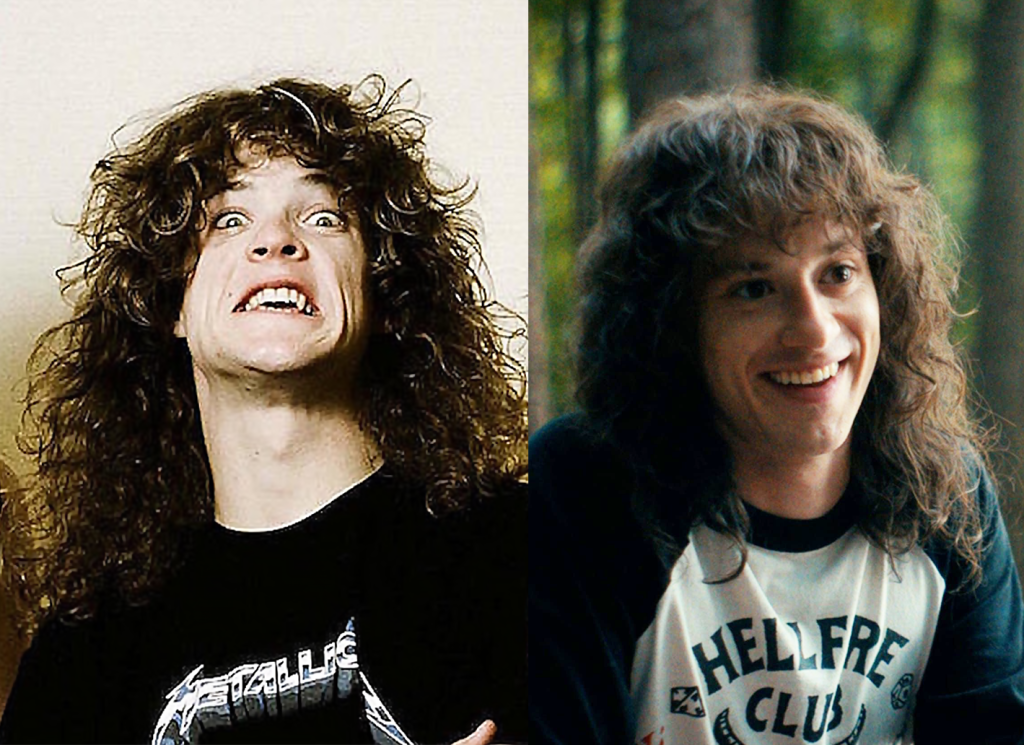 It's great to see a popular show recognize small, unknown, and old artists that nobody watching Netflix has heard of. We feel like our parents or grandparents in their teenage years listening to the Stranger Things soundtrack. Running Up that Hill by Kate Bush is at the top (#1) of the daily Spotify charts for multiple weeks.

We had to research who Metallica was, but we found some uncanny connections between Metallica and Eddie Munson. It's no coincidence that Eddie looks exactly like Lars Ulrich, the drummer from Metallica, but, why Lars?
Despite their long hair and matching good looks, the first ode to Lars was the guitar brand that Eddie used. BC Rich, Ulrich.
Eddie played Master of Puppets on the guitar, which is a Metallica song about drugs. We were introduced to Eddie as a drug dealer and D&D leader.
Dozens of photos exist of Lars kissing Kirk Hammett, which is something that might have happened with Eddie and Dustin had Eddie lived longer.
The Hellfire Club namesake could be perceived as a clap-back to the Christian narrative that "the LGBT+ community will burn in hellfire for being the way they are."
Both for their love for style and accessories, straight men have no fashion sense
The toxic masculinity of James Hetfield thought Metallica would lose fans if Lars and Kirk were more open about their relationship. Similarly, how Stranger Things' Jason tried to hunt down Eddie for being gay because of toxic masculinity.
LOADs of other connections that we can't go into
As I've already said, Eddie was a non-conformist; he was true to himself, even in his last minutes. So, it shouldn't come off as a shock that he decided to tell his closest friend how he truly cares about him when he realized he will not survive.
Will and Mike?
The first "Will is kind of definitely gay, kind of" moment arrives in episode eight when Will finally reveals what's in his secret painting. And yes, it's giving Cher. Because at its heart stands an idealized, heroic version of Mike with an actual heart symbol.
It's a tale as old as time: gay boy falls in love with straight best friend, straight best friend falls in love with Eggo-loving psychic, so gay boy paints a dragon picture to express his feelings for straight best friend, but that gives straight best friend the courage to tell Eggo-loving psychic that he loves her, leaving gay boy behind to look out the car window and cry while pretending he's in an MTV music video.
We've all been there…
And that's why the line, "When you're different sometimes, you feel like a mistake," probably hit home for a lot of queer people watching in. It certainly stuck with Jonathan, who later took Will aside in volume two's second "Will is kind of definitely gay, kind of" moment.

Halfway through season four's never-ending finale, Jonathan explains to Will that he loves him always, no matter what. Tears are shed, and the pair lovingly embrace. It's the beautiful, heartfelt coming-out moment that we've all been waiting for, except there is no coming out. Not technically, because Will doesn't actually express his true feelings in this scene, or any other for that matter.
So What's the Conclusion and What Next?
Yes, it's very obvious that Eddie was LGBT+ and we feel sorry for Dustin and what could have been between them, but there's nothing that can be done about it now so if Will Byers doesn't get his gay relationship in season 5, WE WILL RIOT.